1. Escape Rooms
Can you work together and learn how to ESCAPE!
Have FUN with Escape Hunt, a popular & novel Sydney attraction providing a short, exhilarating indoor break from usual touristy activities. The ultimate team challenge combining intellect & excitement, perfect for everyone, whether you're a couple, a group of friends, a family or looking for a novel team building activity.
See teaser video at HERE
Check out our TV segment on Sydney Weekender
OPEN: 7 days with 1st game starting at 10am and last game at 8:30pm
Websites: http://sydney.escapehunt.com/ , http://www.missionsydney.com/, http://paniqroom.com.au/, https://www.cipherroom.com.au/, or http://www.enigmaroom.com.au/.
2. The Pylon Lookout
Climb 200 steps to the very top of the Pylon, where you will be rewarded with spectacular panoramic views of the city of Sydney.
Find out how the Sydney Harbour Bridge was constructed and discover the stories behind the opening celebration as you wander up, through three levels of exhibits, to the open-air lookout.
Finish off the outing with a walk around the harbour and find one of many great restaurants
Website http://www.pylonlookout.com.au/. 
3. Wild Ropes Taronga Zoo
Set in bushland surrounding Taronga Zoo, Wild Ropes offers breath-taking views of Sydney Harbour while you enjoy the Australian outdoors. Offering a 90 minute outdoor activity that allows visitors to observe Koalas, Kangaroos, emus and wallabies while they climb through the trees as fly through the air on flying foxes.
An adrenalin filled adventure that's great for families, school groups and team events.
What are you waiting for?
The wildest views of Sydney come to life on Taronga Zoo's new sky high adventure, Wild Ropes. Set in the bushland surrounds of Taronga Zoo and with breath-taking views of Sydney Harbour, this action-packed high ropes course is an excellent way to experience and appreciate the Australian outdoors.
4. Blue Mountains Adventure Company
One hundred kilometres west of Sydney, NSW, Australia lies one of nature's most magnificent creations, the World Heritage area of the Blue Mountains.
Endless stretches of sandstone cliffs, dramatic waterfalls and hidden canyons, a landscape of stunning natural beauty.
It provides a fantastic environment for the thrilling adventure activities of abseiling, canyoning, rockclimbing, mountain biking and bushwalking – a lifetime's worth of adventuring is to be had in Sydney's backyard!
Website: See how adventurous you can be.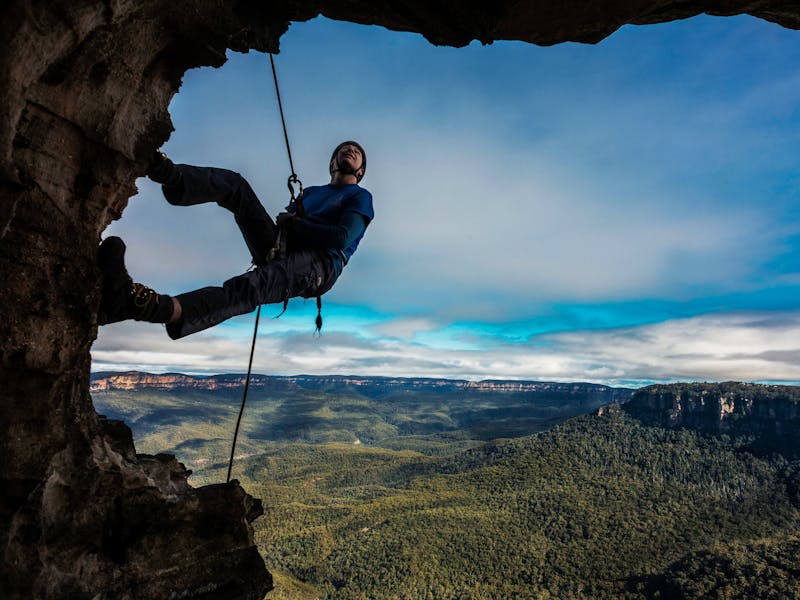 5. Markets
Love vintage bargains, creative designs, gourmet delights and fresh produce? Then Sydney's eclectic markets are enticing. Taste authentic Asian flavours under red lanterns at the Chinatown Night Market, browse markets in the historic Rocks, and fossick in charming neighbourhood markets.
Learn all about different markets and when they're on HERE.
What's on the top of your list?